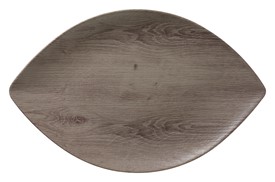 This intricate wood-look design has a textured feel that fool customers into believing they're dining on weathered driftwood and not melamine. Artistic and rustic at the same time, the gray color shows off the detail of knotty wood-grain. The unique leaf-shaped trays can also serve as over-sized plates.
You must sign in to view our products. Click here to sign in.
If you are a retailer and do not have an account with us yet, you can click here to create an account.