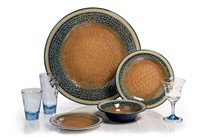 This classy yet durable earth tone collection combines hues of navy and maple. There is an elegant, embossed pearl rim around the edge of each piece, giving it a fine china look. Oversize serving trays and bowls are great additions to dress up an outdoor affair.
You must sign in to view our products. Click here to sign in.
If you are a retailer and do not have an account with us yet, you can click here to create an account.