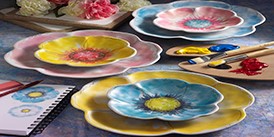 Bring a splash of springtime to any gathering with MERRITT's new Floral Sketchbook heavy weight collection of intricately sculpted plates and bowl designs available in multiple color options. Straight from an artist's pallet, the poppy-shaped designs are available in four vibrant pastels. Coordinate colors, mix and match or stand alone, the Floral Sketchbook collection sets the mood for an indoor or outdoor garden party.
You must sign in to view our products. Click here to sign in.
If you are a retailer and do not have an account with us yet, you can click here to create an account.