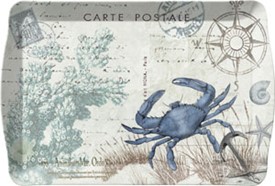 Vintage postcard design with shadow coastal impressions adds sophistication to any beach home. Classic sapphire-blue nautical icons are set against a glossy eggshell cream. Pairs nicely with rustic rattan chargers in antique white and glacier blue.
You must sign in to view our products. Click here to sign in.
If you are a retailer and do not have an account with us yet, you can click here to create an account.