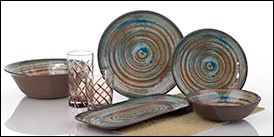 This heavy-weight melamine design in brown and blue tones looks and feels like real pottery. The artistic swirls capture the depth of a traditional potter's glaze. Handsome two-toned bowls which feature a glossy brown or navy underside round out this collection.
You must sign in to view our products. Click here to sign in.
If you are a retailer and do not have an account with us yet, you can click here to create an account.